Patryk tells us how Integrit Performance delivers all-inclusive online training fitness and nutrition coaching using Everfit
Thanks to a certain viral pandemic, online training has boomed in the last two years. Many personal trainers and gym owners have jumped on the bandwagon and discovered a variety of benefits (and challenges) to navigating the virtual training space. However, one guy was ahead of the curve.
Meet Patryk Piekarczyk, the owner of Integrit Performance, an online training and nutrition coaching business that earned its name by integrating all aspects of training to create all-inclusive programs for clients. Patryk started his coaching business in 2019 with two buddies that each have their own coaching specialty and now uses Everfit to deliver a high quality, high touch level of online coaching to his 30+ clients!
How did Patryk start a successful online training business? How does he use Everfit to manage both online fitness training and nutrition coaching for his clients? We had a chat with Patryk to find the answers to these questions and more!
So tell us, how did you wind up as a personal trainer and start running an online training business?
I'm originally from Poland, and there's a big strongman culture there, so I used to watch old-school lifting videos, and I started lifting in high school. I then went to college for dietetics and exercise science, and I continued lifting throughout college. Afterward I went right into personal training and started my master's degree, was a strength and conditioning coach for a little bit, and now my current role is as the fitness director at Pinnacle Fitness.
I started Integrit Performance in 2019, pre-Covid, so I was actually a little ahead of the online training curve. Initially, it was because the fitness world doesn't pay very well, so it was good supplementary work, but I also saw what others were doing, and I thought my team could do better.
So I and my two buddies started Integrit. Now we're our own bosses and we're training people how we would want to be trained. One of my co-owners is really good at strength, and conditioning while the other focuses on rehabilitation and injury prevention, and I have the nutrition side of things. We combined forces to create a training platform with a little of everything. This is why we call it Integrit Performance, integrating all aspects of training for a more holistic program.

Who comes to Integrit Performance for coaching, and why is it unique from other coaching businesses?
We work with a wide range of people. Even though my training style is heavily focused on strength, which attracts clients who are powerlifters or Olympic weightlifters, we also work with older people struggling to walk, people in the military just trying to get a better physical score. We also help with pre-existing injuries. A lot of people don't know how to work with those issues, and I feel like we do a good job.
Since we started using Everfit, though, my client demographics are narrowing down a bit more, which is a good thing since you should have a more targeted approach after a while. The free trial attracts younger, tech-savvy people because they understand the value of the programming.
But what's unique about Integrit is that we do personalized training implementation. A lot of trainers out there don't know how to program for anybody but themselves. A lot of trainers think, "What would I do?", instead of "What should this person do?". We do a really good job at meeting people where they are at.
How did you build your client base, and what does the day-to-day management of your clients look like?
So I started with about 5 clients. To build up to 30 clients, I took advantage of the fitness community I was already embedded in. I talked to the guys at my gym with who I was lifting and people I knew in the gym who might be interested in coaching. Word-of-mouth took over from there. The key though was to target people who could afford training.
Now, between nutrition coaching and training, I have close to 30 clients in total. I find that's a good number for me. I can provide high-quality, high touch coaching at that level. When I go above that number, it gets difficult to provide the kind of service I want. With one-on-one coaching, I budget about two hours per person for programming and any type of communication that you need for them, like answering emails, texts, etc.

How has Everfit changed the way you run your online training business?
Everfit has made it much easier to streamline the onboarding process and simplifies communication with my clients. The all-in-one aspects help a ton. It keeps everything centralized. I have one place where I can:
Share personalized training programs that can be changed over time
Include instructional videos with programs
Find the videos and texts clients send me
Keep track of injuries or when people are on vacation
Easily integrate nutrition using the food journal
Send check-ins to keep clients in check
I just tell clients to put everything into Everfit, that way if I need any training related information, it's all in one spot. Also, I'm not a bootcamp instructor, it's easy to cut people slack in person but over the phone, I can also motivate my clients a little easier. Behind the computer, you can talk a little smack. They won't hurt you LOL.
Everfit is always moving forward, innovating, always trying to improve the app. I just haven't seen anybody really try to do that to that extent yet.

What has been the biggest game-changer for you using Everfit?
Everfit will allow us to expand more vertically, offering higher tier, premium coaching packages. And then we'll have more low touch coaching where we just give you a program, you pay "X" amount each month, and you can access the community features, our resources like my e-book, that kind of stuff. This will allow us to take on clients at scale.
Then, once I'm a Registered Dietitian, Everfit will allow us to do more nutrition coaching through the app. This is where our premium packages are heading, nutrition combined with training. This is the way people will get the best results and see the most progress.
Everfit has also really helped with the work-life balance. The automation saves me a lot of time. I don't spend my weekends working that much anymore. Instead, I can spend more time with my family, grocery shopping, or meal prepping.
The automation has definitely improved the quality of my coaching, too. I am forced to not mess around with the training programs too much, and I can link to videos so people can learn how to do exercises properly since I can't be there in person to correct them.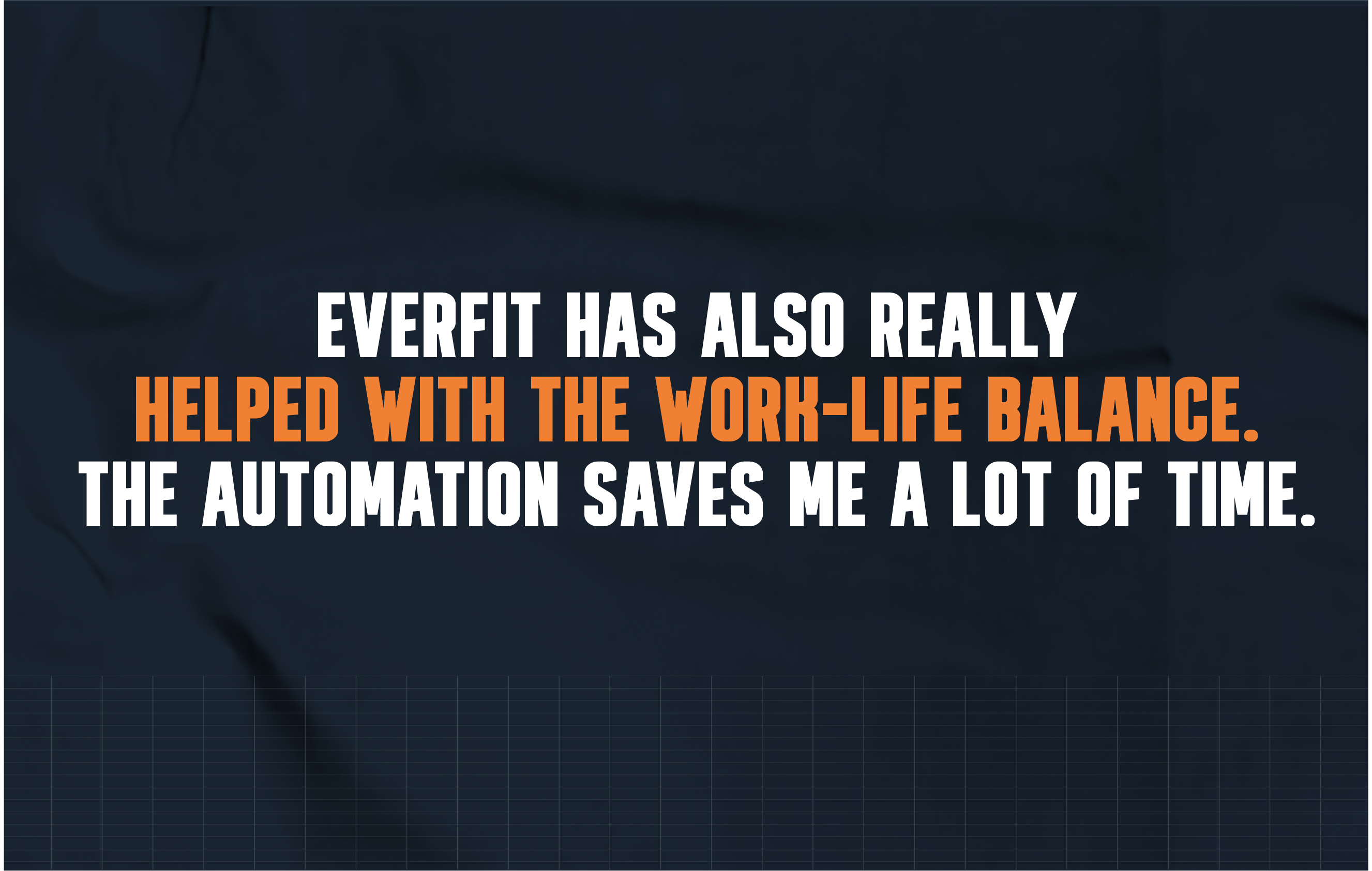 What is some advice you would give to people who want to become coaches or personal trainers, in-person or online?
Sure, I've got a few suggestions:
Get good at coaching in person: Online coaching is more advanced in a lot of ways because you can't put your hands on someone.
Don't assume: Even simple exercises may not be so straightforward or clear for clients who are new to fitness.
Be patient: With clients and with the training process. Learn everything and be able to modify it.
Don't underestimate: Don't treat clients like they're fragile. Give them a good workout!
Network in person: Talk to as many people as possible in the gym. The bigger community of people you build, the more your business will spread by word of mouth.
Have a good referral program: Even if it's just giving somebody a shirt for bringing you a new client, it will help.

Where to find Patryk…
Instagram: @patrykpie @integritperformance
Websites: https://integritperformance.com/