As much as we want to go back to the way things were, the Coronavirus outbreak has definitely given us many challenges regarding staying connected with fitness clients during shelter-in-place. Oftentimes, messages get miscommunicated via text, clients can't ask as many questions, and it's difficult to be expressive and motivating over an email. With challenges come the opportunities to learn and adapt to the new normal. Although it is more difficult to express yourself only through screens, that does not mean you can't communicate effectively. Here are ways to maximize the way you communicate with your fitness clients during the quarantine and improve customer relationships.
Create a Questionnaire
It's important to have a standard questionnaire. You can send an email to your fitness clients or utilize the Tasks function from Everfit to send a link to the questionnaire. This Tasks function also sends a push notification on the client's phone to remind them to complete the tasks. It's important to ask open-ended questions to get more feedback from clients during the quarantine. An example of a closed question would be, "Did your training go well this week?" Clients are most likely to respond to this question with either "yes" or "no". A better way to word the question would be, "Explain what went well in the gym this week."
A standard questionnaire helps, but keep in mind that each client has different habits and issues. Make sure to tailor the questionnaires so they stay relevant for each client. This could mean modifying or adding a couple of questions to your base set of questions. Keep questionnaires short enough to encourage fitness clients during the quarantine to fill them out, nobody likes a time-consuming check-in form either.
Check in more frequently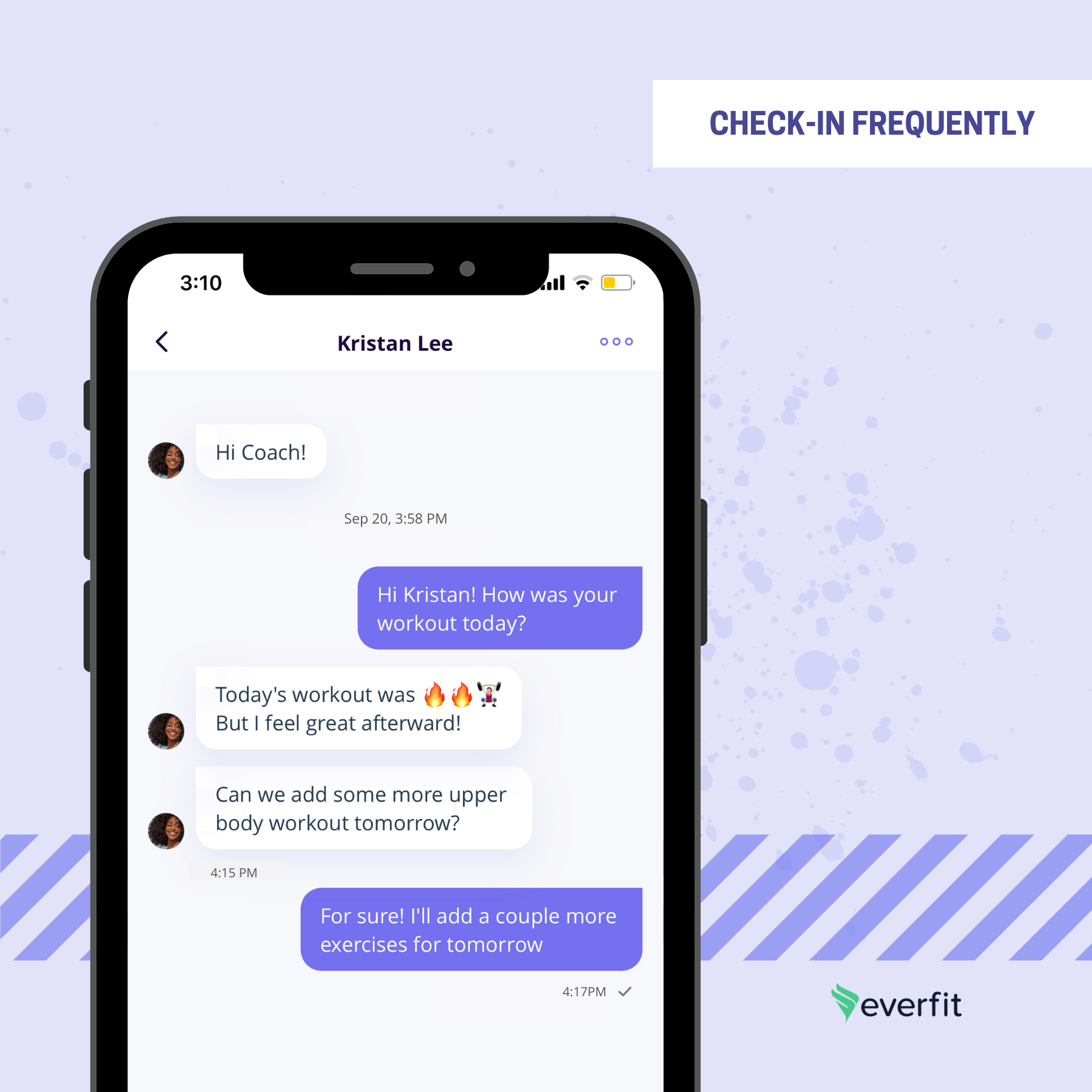 Check-in with your clients during the quarantine every couple of days via text or email. This could be difficult if you have a lot of clients but it's extremely necessary. Ask clients how their weekend went, send them a text in the middle of the week to check up on them, ask them with prompting to send you a picture of their breakfast. Get creative and try to engage your fitness clients during the quarantine as often as possible. A big part of personal training is accountability, people need a nudge and check in frequently to stick with their habits.
To save time, you can upgrade your Everfit account with the Autoflow add-on which helps you keep constant communication with your clients effortlessly. For example, instead of sending out individual texts to clients one by one, you can schedule to send a message to everyone with a touch of personalization. Make sure to check-in with fitness clients frequently and provide them the motivation they need from the trainer as they work on their fitness journey.
Schedule Phone or Video Calls
Checking in with clients over phone calls can be time-consuming. If you have a lot of clients to schedule 15 to 20-minute phone calls each, I recommend scheduling calls less frequently. A call every 2 to 4 weeks still helps to supplement your check-in forms and catch up with your clients. Facetime or Zoom calls would make it even more personal. If you choose this option, make it as streamlined as possible. Contacting clients individually to schedule calls can be overwhelming. You can set up a Google Calendar for clients to book appointments or use a widget on your website for scheduling phone calls.
Video Feedback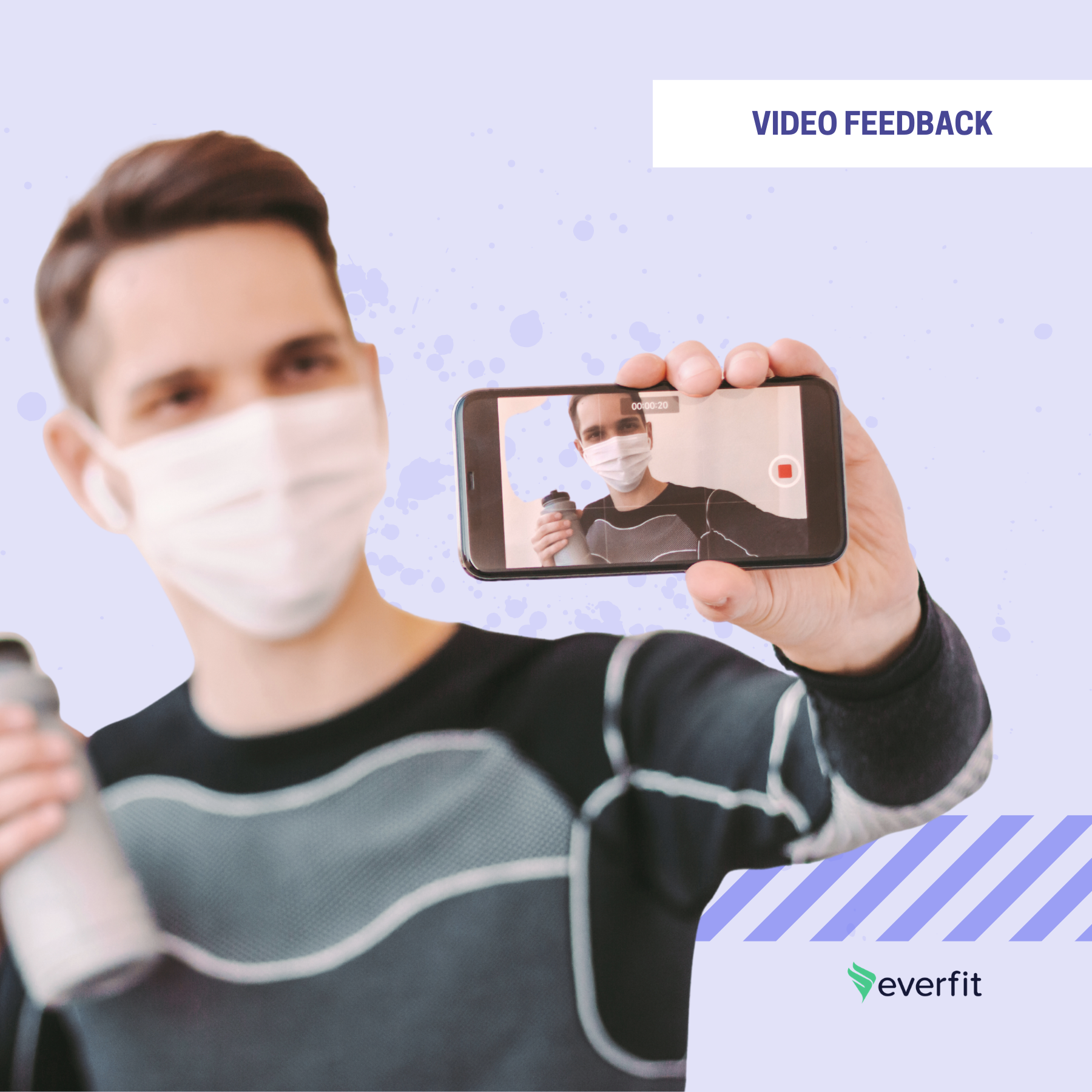 Have clients film an exercise or two each week for you to give feedback on. Critique their form, intensity, and analyze what could possibly be causing their pain. Video feedback allows you to showcase your movement expertise and gets the client involved in their training. It's difficult to write programs when you can't see the technique flaws or intensity a client is generating. This can lead to injury or a lack of progress very quickly.
It's easy to lose motivation and stray off the path when a trainer isn't watching you anymore. Make yourself available for your clients, check-in with them frequently, ask questions, be supportive, and personalize the experience to enhance customer relationships. Also, you can find 5 strategies to build successful digital fitness in the Covid-19 era.