Gym reopening is happening in most of the United States and what your gym is doing to keep members safe is front-page news (literally). As a fitness director of Pinnacle Heath + Fitness, a large health club in Madison, Wisconsin, I've had to make sure we are prepared. Initially, most of your members or clients may feel comfortable coming back in, they will have questions, and they will bring up concerns you might not have ever discussed with your team.
Are you ready?
Gym reopening is no easy task
As a management team, we have shared countless emails, in-person meetings, and spit-balled a lot of ideas for months before finalizing our reopening strategy. Even as a trainer, you have a lot to consider. Most of your clients might not want to come in yet, what alternatives do you have to keep them healthy? What else could your gym do to keep your client's mind at ease?
Put member's minds at ease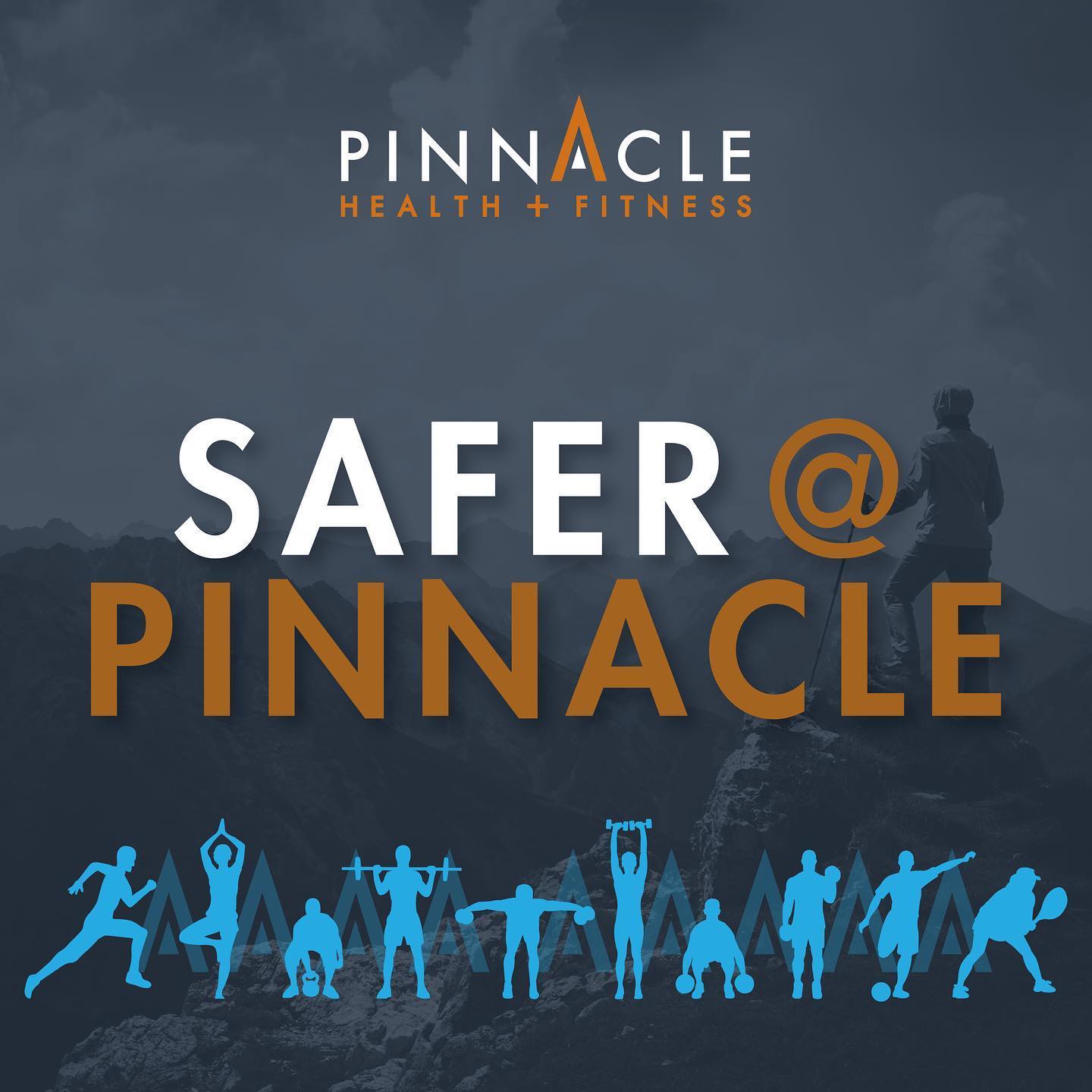 Before gym reopening, we posted over 10 reopening guides on our website for each department and area of the gym. This included personal training, aquatics, group fitness, and areas of the gym such as group fitness studios, outdoor pool, indoor pool, tanning, spa area, childcare center, and the club in general. We also provided members with all the information they needed on the homepage of our website. Additionally, we sent out multiple constant contact emails to inform members of our policies. If they know we are prepared, they will feel safer to come in.
Keep yours clean for gym reopening
This seems obvious, but it needs to be visible to members. Years before COVID-19, members had complained about the cleanliness of the gym. Consequently, our owner moved the cleaning team to work at a time that would be visible to members. They provided the same level of cleaning but at a busier time when they would be seen by members. This caused the complaints to disappear. Appearances are very important! Find ways to engage staff in cleaning, provide spray bottles and towels for members to carry with them, stock up on hand sanitizer, soap, disinfectant wipes, and other cleaning products.
Every weekday we close the gym between 2-3pm to spray down all equipment with virucide. Closing our gym during a dead period allowed us to get everything in the gym cleaned as a team and countless members thanked us for it. Some members even said these efforts were the only reason they came back.
Members need to know you care about their health during this time and that you're willing to do anything to keep them from getting sick. Promoting posts of members attending classes and signs promoting safety around the gym has also helped put members' minds at ease.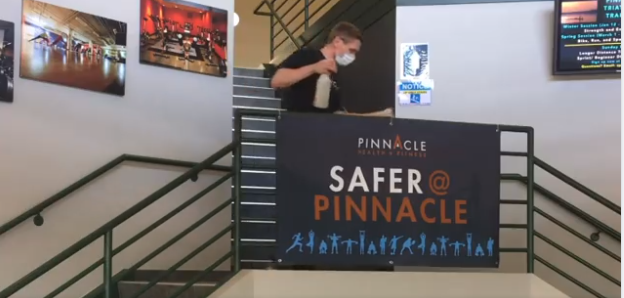 Social distancing measures
Provide social distancing measures wherever possible. We did a couple of things to accomplish better social distancing.
Block off every other cardio machine with a sign that it is unavailable. This spaces out members and assures people won't be right next to each other. We flipped these signs to the other machines at our 2pm cleaning time.
Put down stickers in group fitness studios to ensure adequate spacing between members. We doubled the amount of required square footage between members, this made classes visibly more spaced. Keeping only 6 feet between individuals still looks relatively crowded and could put members on edge.
Designate staircases as up or down only. This allows members to not get congested when passing through staircases and limits contact.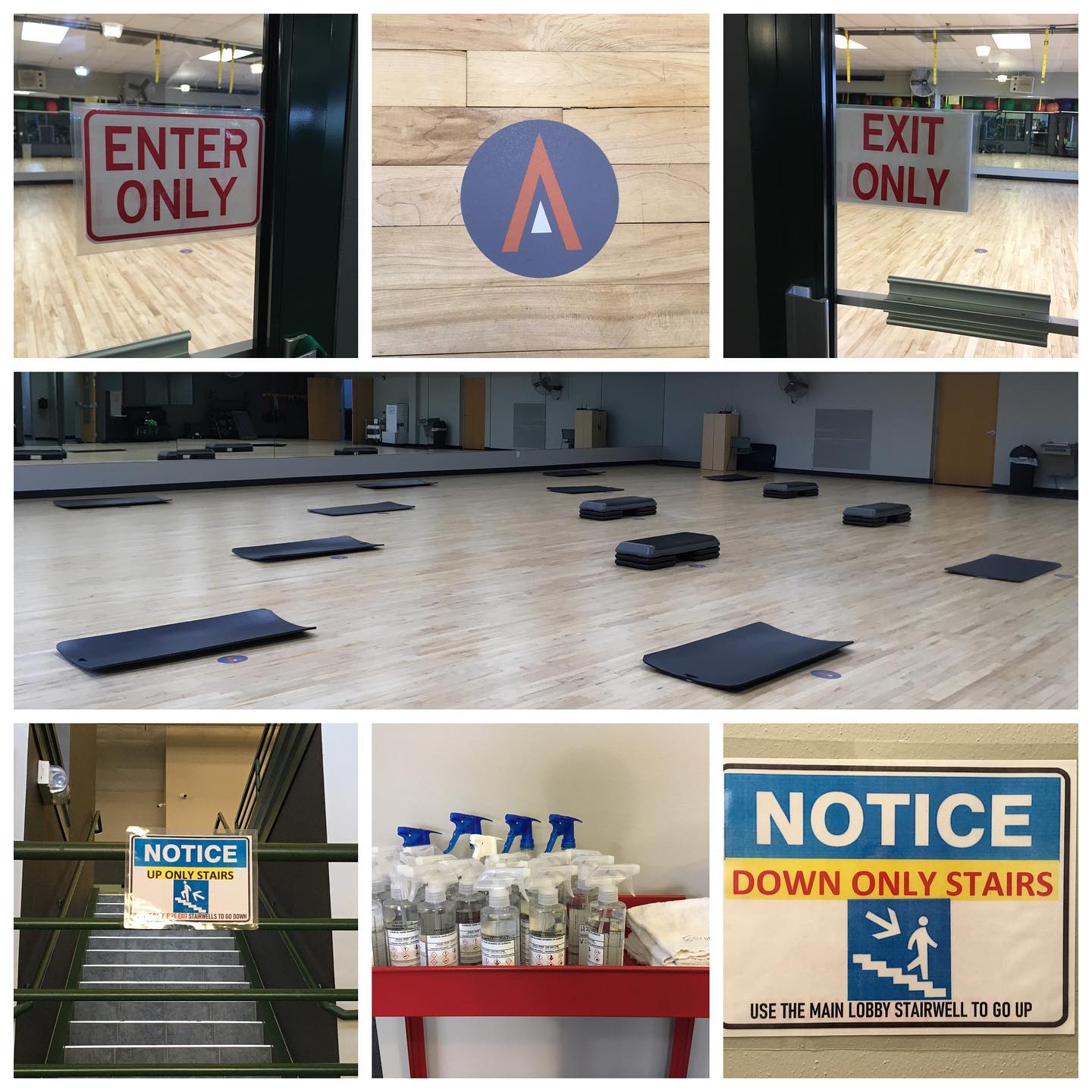 Most importantly, post signs and condensed versions of your plan around the gym. Only highlight 5 to 10 points of most importance. You do not need to over inundate members with information. Refer them to your resources online if they have further questions.
Be Proactive
Solve problems before they happen. This is something that needs to occur before opening: every contingency and problem, no matter how silly, should be discussed because it will likely come up. This includes concerns about cleaning and potential complaints but also includes questions about memberships and training. We had hundreds of members request to cancel or freeze their memberships. And you need a plan to deal with cancellations or freezes to understand how this will affect you or your gym financially.
In the Madison area, it's common for gyms to freeze your membership but still charge you. This means customers continue to pay dues, but for however long they are on freeze (typically up to 3 months), this period will be added to the end of their contracts. Losing members is also a harsh reality, since many members have home gyms as well. It is important to bring staff up to speed on the procedure for cancellations and freezes.
Every contingency and problem, no matter how silly, should be discussed
Provide options at gym reopening
Be flexible when thinking how to protect your business as an independent trainer, such as not letting your client's sessions expire, let them train virtually, or bring equipment outside to train away from the gym. You should be proactive when discussing options with clients, since mandates by county or state have often changed on short notice. Clients should therefore be aware of all the options you have to offer before they have a reason to cancel training appointments.
Be the trusted expert
Stay up to date with state and county guidelines. It's your responsibility as a manager but also as a trainer to stay up to date with recommended safety precautions. Your clients likely watch the news and will hear about changes and they will have questions, so you need to shine as a health professional by providing concise answers whenever possible. It also shows your client you have thought about their health and you are prepared to protect them.
Communicate!
Finally, all updates need to be regularly communicated to members. If you do not have a newsletter or way to communicate with all of your members, you need to create it yesterday. Any major updates should be communicated to members, but keep in mind you want to condense your information. For example, perhaps sending the newsletter at the end of the week to wait for all available information is a better idea than immediately sending any update out. This likely will increase the likelihood of members reading your emails and most importantly make your organization look orderly.
Get Creative and Take Action
It's going to be tough but you need to be more creative now than ever before. Problems that you can't expect or prepare for will come up. We recently began holding all of our classes outside and already have a trailer outdoor with equipment for personal training. After hearing complaints about being in the sun for too long, we purchased a tent for group exercises and training outside.
Have the necessary equipment, and don't be afraid to get weird by having members bring in their own equipment such as backpacks to load, carry, lunge, and move with. Strapped for cash? Go to the junkyard and get some tires and odd implements, make a sled, start classes that are fun and new with these implements. There is no better time to try different training modalities and styles of classes than now. You have nothing to lose!
Don't be afraid to sell other services, such as 30-minute zoom training sessions, individual or group nutrition counseling, selling yoga mats or small equipment for members, or summer challenges. The list really is endless.
Wade the tides of uncertainty
These are some strange times, and to be honest, nobody really knows what they're doing. It's important to keep in mind that you don't need all the answers, but you need to try for the sake of your gym and your client's health. Put member's minds at ease, be proactive, and get creative. Now isn't the time to bump the brakes. Keep the growth mindset of an athlete.
Good luck!
In case you are working as independent personal trainer, here is our tips to get ready for gym reopening.