2021 has been a year full of growth and success for the Everfit Coach Community. We've had over 7000 coaches join Everfit and bring on their community of clients and athletes. We are seeing a digital revolution for the fitness community and excited to partake in this rise of personalized digital coaching.
As we countdown to the start of 2022, some coaches have generously shared with us their stories on how they transformed their coaching business the past year and more importantly their best tip to help you improve your coaching business next year.
Here is a selection of 5 top business tips our coaches recommend to help you excel at your coaching business in 2022:
1. Introduce your face-to-face clients to Hybrid or Online Coaching.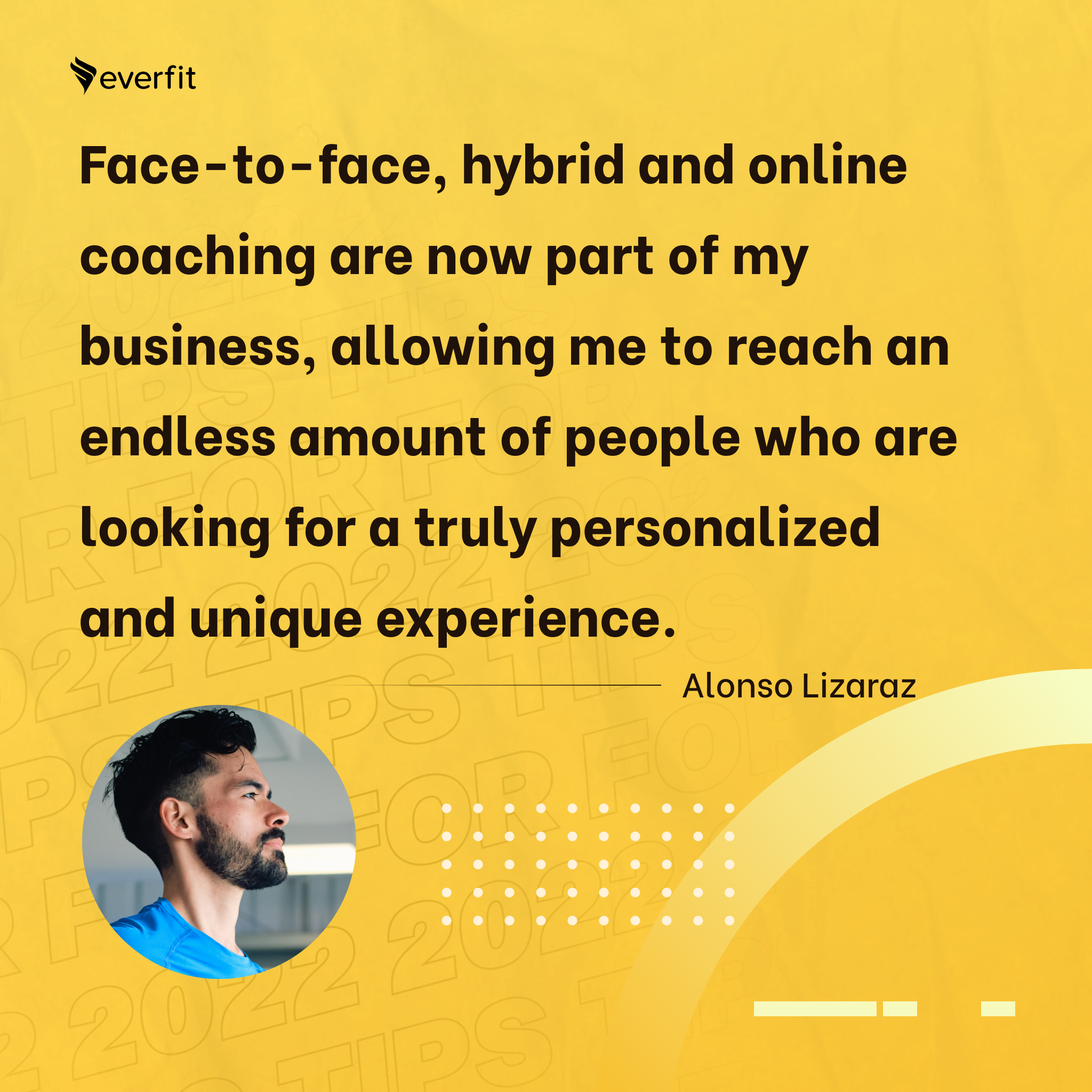 Back in 2019, Coach Alonso Lizaraz (@lizarazfitnessandhealth) was only doing face-to-face coaching, meaning he had to come up with something quick and of good quality to keep our clients moving. He tried workout sheets, tried live streaming, etc., but this was all time-consuming and not very efficient.
In the middle of the UK's 2020 lockdown, he stepped up his game and started introducing the app to his face-to-face clients. This was when he began hybrid training, which helped old and new clients be more accountable, seeing progress way faster and increasing adherence in time, generating more business. As for his online clients, they now had all the tools they needed for a world-class training experience from day 1.
Face-to-face, hybrid, and online coaching are now part of his business, allowing him to reach an endless number of people looking for a truly personalized and unique experience.
2. Use scheduling and accountability features to keep clients on track and engaged.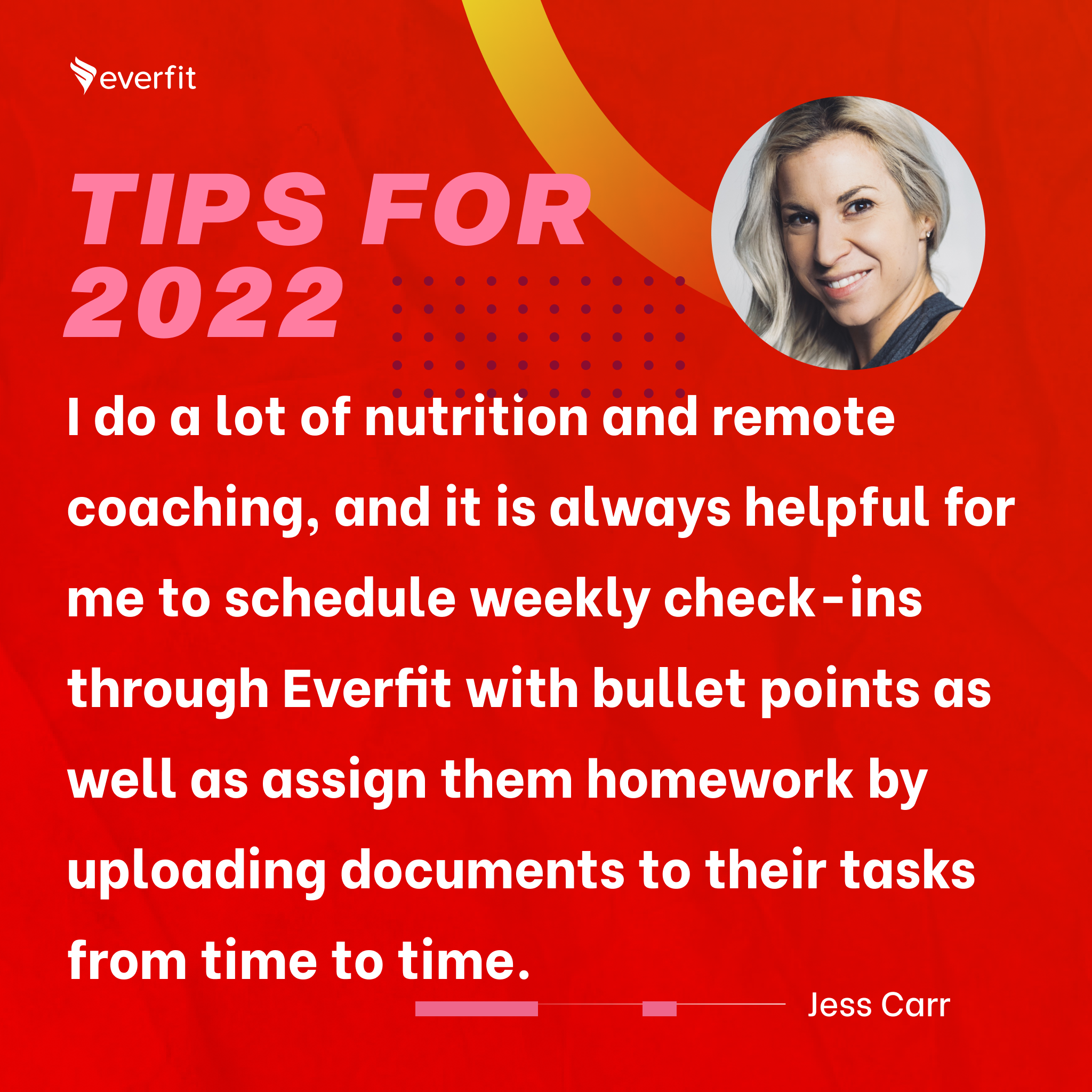 Coach Jess Carr (@jesscarr.fit) does a lot of nutrition and remote coaching. It is always helpful for her to schedule weekly check-ins through Everfit with bullet points and assign them homework by uploading documents to their tasks from time to time.
She also recommends encouraging clients to use the commenting feature in the workouts to be on top of how they are feeling and anything they may need help with.
Her goal for 2022 is to launch a new program on Everfit for pregnant and postpartum women who want to work out safely and effectively.
3. Experience the app as your client and adapt your programming accordingly.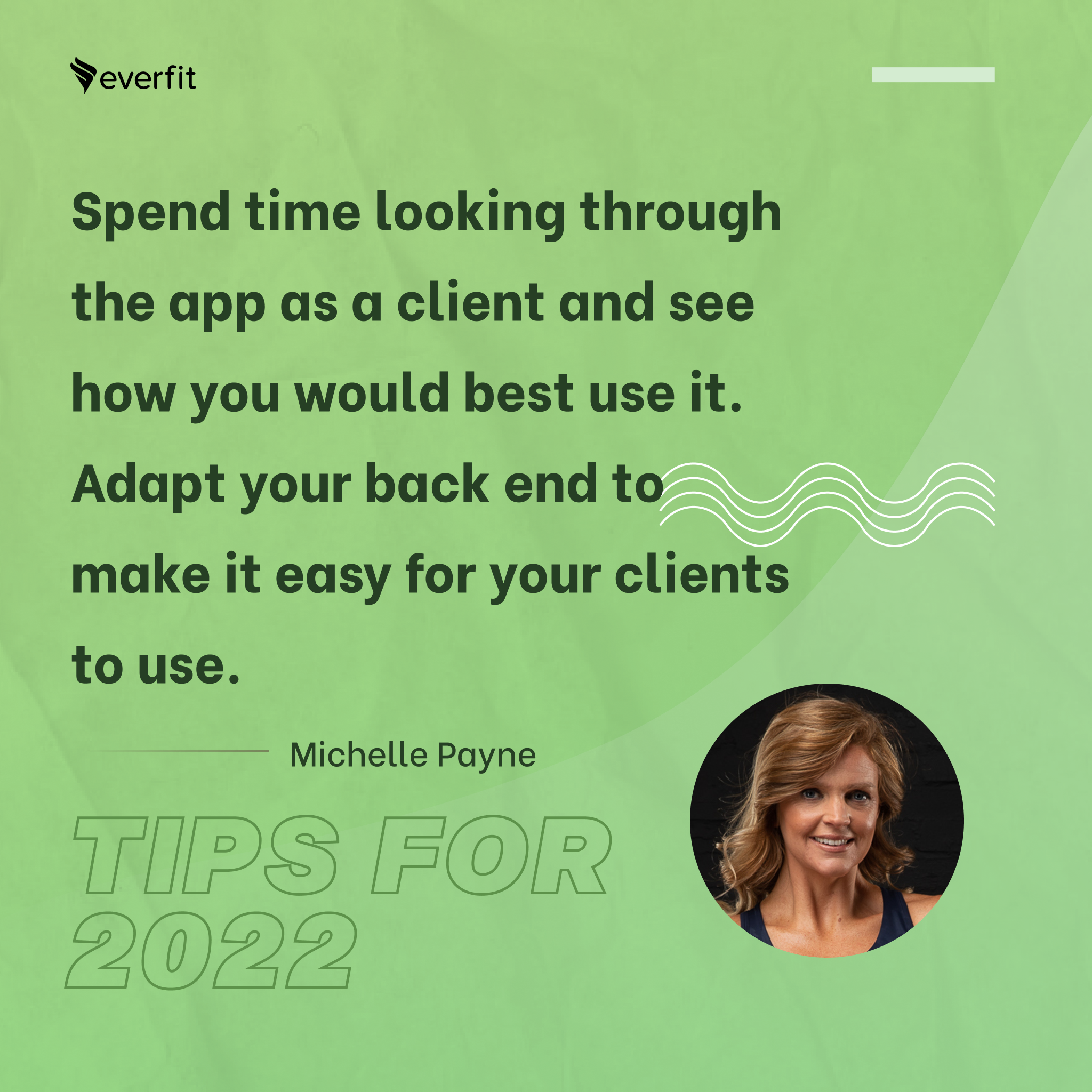 Coach Michelle Payne (@Michelle_motivates_) recommends to spending time looking through the app as a client and seeing how you would best use it. Also, adapt your back end to make it easy for your clients to use.
She finds Everfit a great app for her clients to be accountable. Few important things she does to keep the clients engaged constantly:
Track when they complete workouts
Follow what food they are logging
Check-in with her clients on a regular basis.
She loves the ability to personalize fitness plans for her clients with such ease. And the power of using her own videos, so clients can still follow along in "real-time".
Her New Year Resolution is to improve her SEO and social media presence with engaged followers & increase business TO by 40% in 2022.
4. Set working hours, and find work-life balance.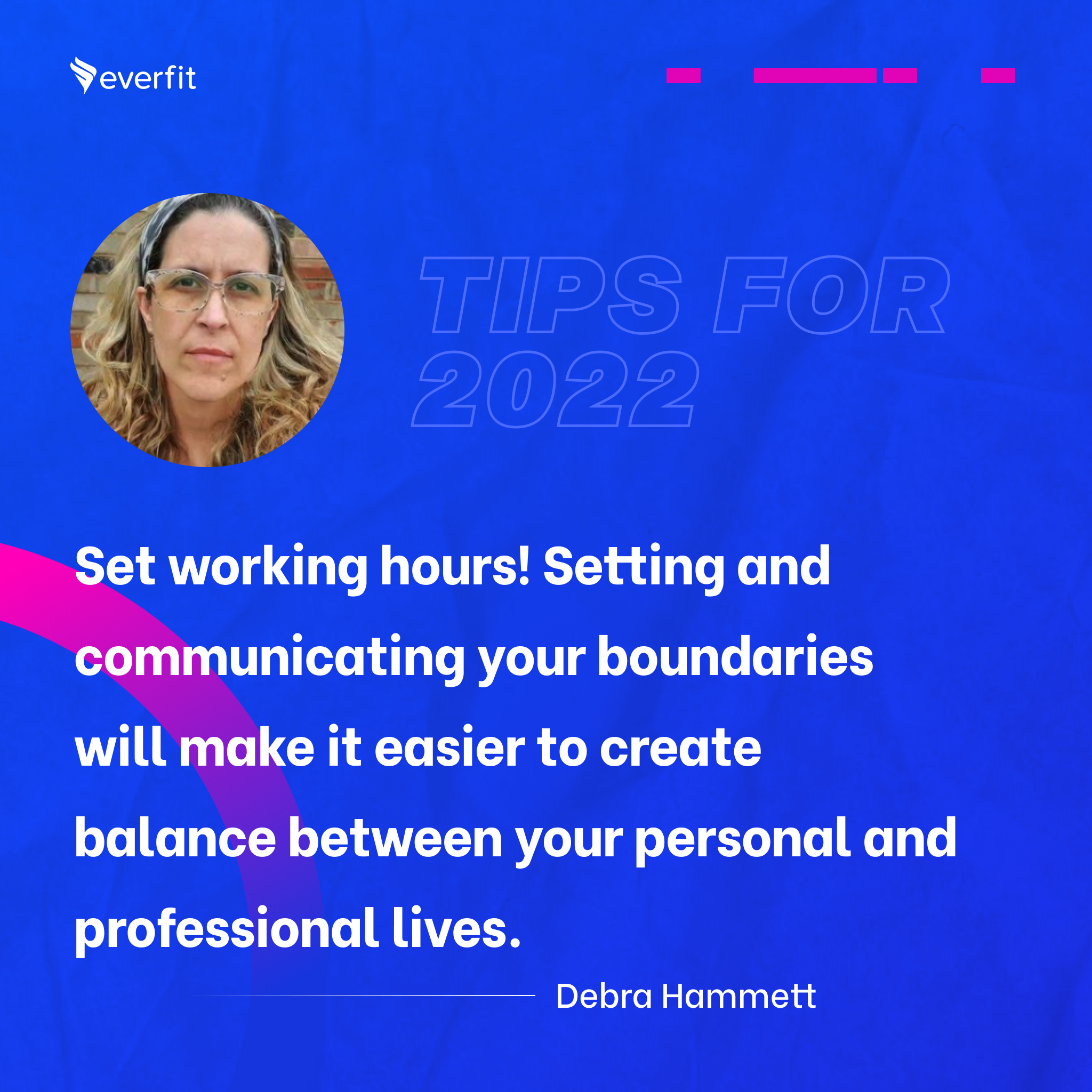 It is so easy always to be available when working from home.
Coach Debra Hammett (@seriousresults) recommends defining your working hours, schedule when you will do online work and what specifically you'll do. Make sure your clients know your availability, and be sure to stick to it! Setting and communicating your boundaries will make it easier to balance your personal and professional lives.
5. Build tasks and workouts into automations and save time coaching multiple clients.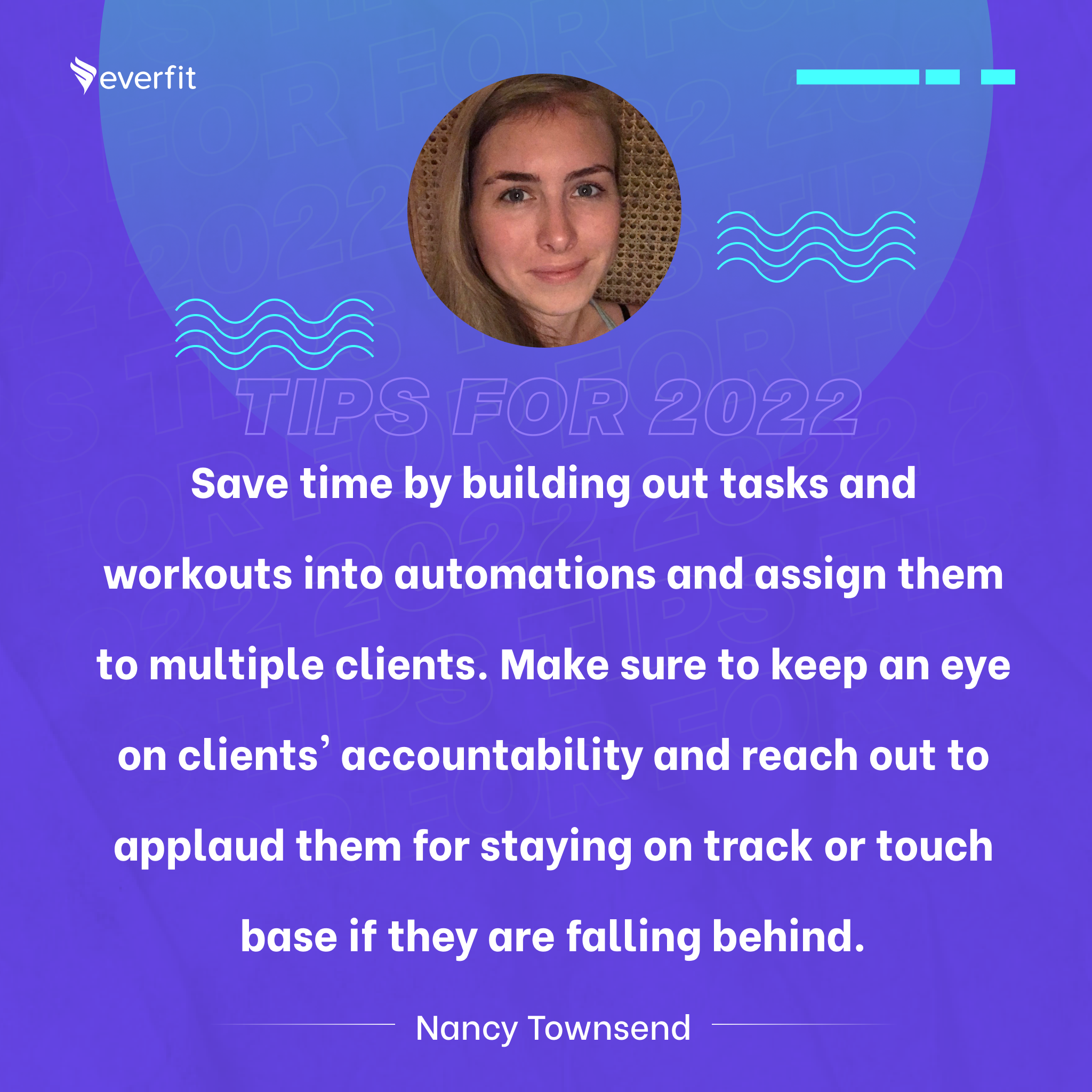 Coach Nancy Townsend (@Upliftstrength) shared her favorite tip to save time is to build out tasks and workouts into automation and assign them to multiple clients. Plus, make individual tweaks where necessary. She also recommends keeping an eye on clients' accountability and reaching out to applaud them for staying on track or touching base if they fall behind.
For 2022, she plans to load all of my in-person programmings to Everfit, so that all of her clients (not just her online clients) experience the benefit of seeing their workout history, metrics, and communications all in the app.
Outside of that, remember to take more "me" time this year, with a lighter workload thanks to Everfit!
Goals. One coach shares her ambitions for 2022 and how she plans to use Everfit.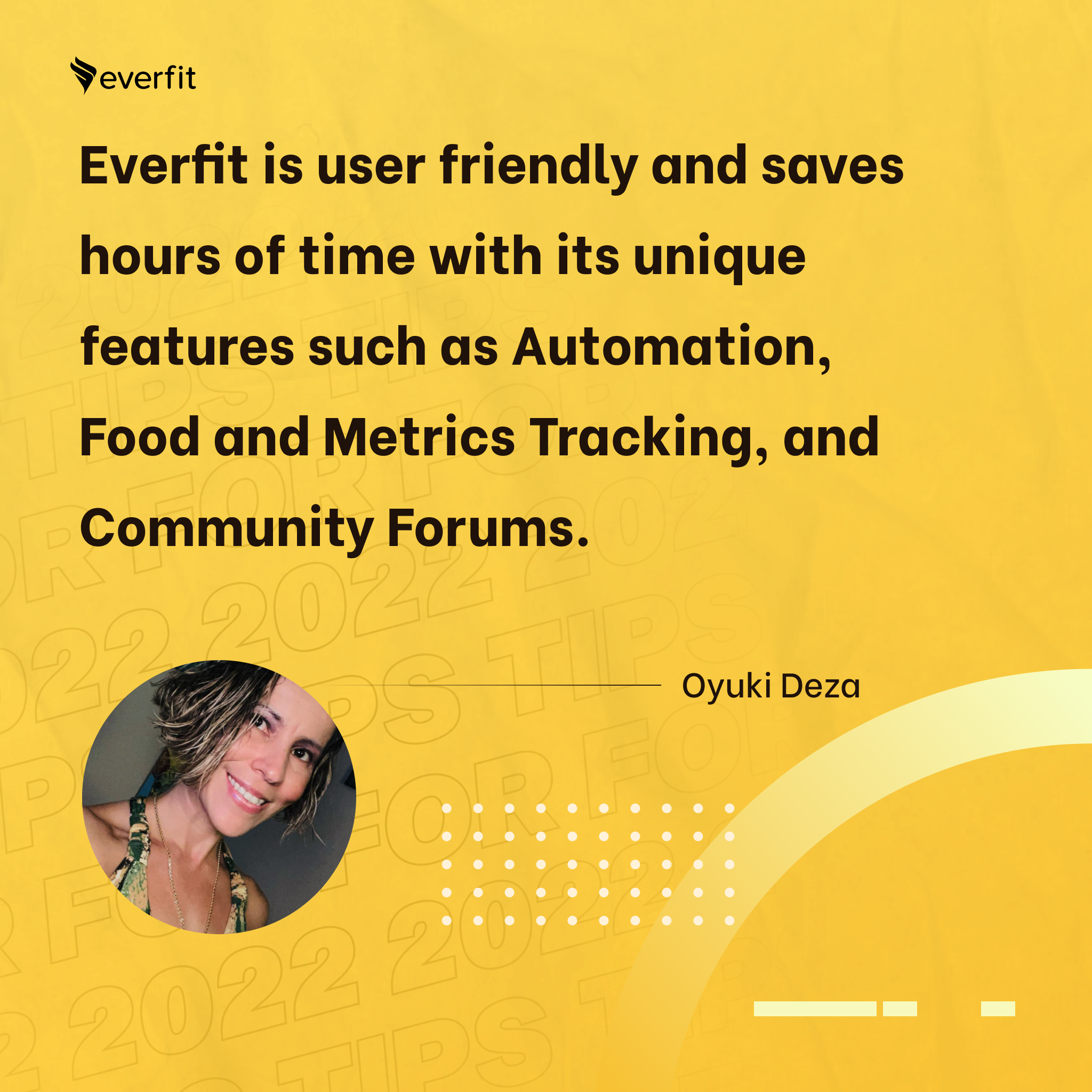 Coach Oyuki Deza (@oyukydeza) shared with us her business New Year's resolution is to continue to grow, train, and motivate 10,000 clients to embrace a healthy lifestyle for life. To attain her goal, she'll be using a holistic approach with training, nutrition, healthy habit formation, and mindset coaching.
"I am blessed and fortunate to have found the best software in the Fitness and Nutrition Coaching industry. Everfit is an efficient only personal training software and application with everything a coach needs to up-level their business. In addition, Everfit is user-friendly and saves hours with its unique features such as Automation, Food, and Metrics Tracking, and Community Forums." – Said Coach Oyuky.