As part of the process to implement safety measures including touchless check-in, cleaning stations, distancing in uses of machines and equipment, an increasing number of gyms in the United States are requiring members to wear face coverings while working out in gyms. Wearing a mask during training isn't ideal but there are ways to mitigate the inconvenience to make sure you stay safe.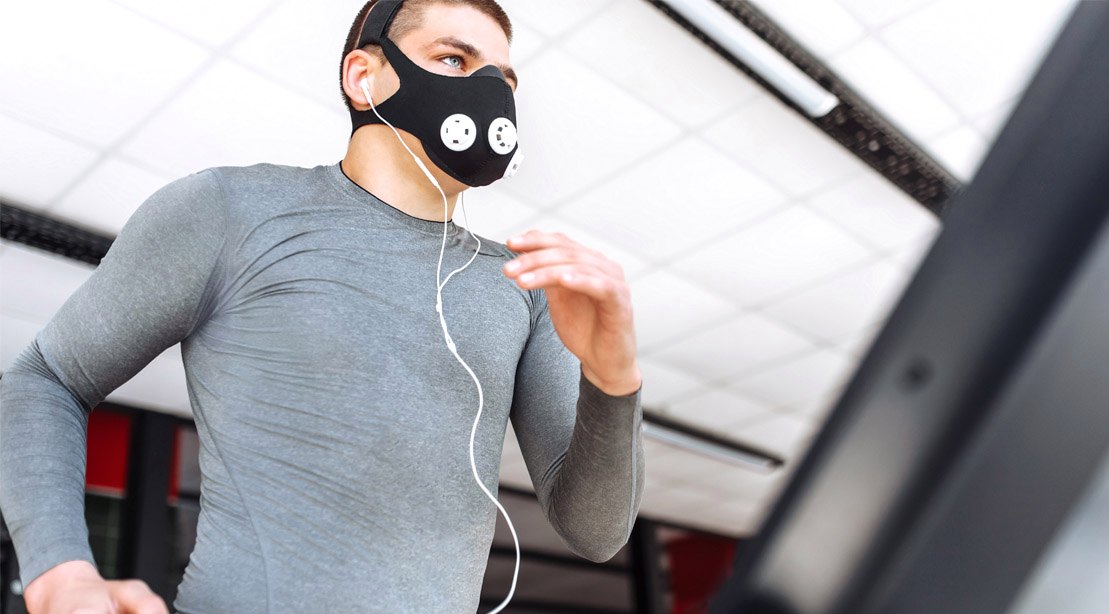 ---
Patryk Piekarczyk, MS, CSCS, ACSM-CPT, a personal trainer and nutrition coach at Integrit Performance, share a few things you can implement to make the experience more enjoyable.
Wear a neck gaiter and not a surgical mask.
Decrease your breathing rate between sets.
Use cluster sets.
Go outside (if possible).
Wear a Neck Gaiter
Surgical and cloth masks are commonly worn in public spaces. While most of these masks are relatively breathable, they can't compare to the neck gaiter when it comes to exercising. Gyms typically don't require masks either, only a face covering. If for some reason your gym wants to argue semantics then you may have to switch to the mask, but until further notice, many people are getting away with wearing the neck gaiter.
The material of a gaiter is thinner, more breathable, and the structure helps it stay on your face better. Personally, the surgical mask would slip down my nose when talking and working out, however, the neck gaiter rarely slips if I wear it snugly over my ears.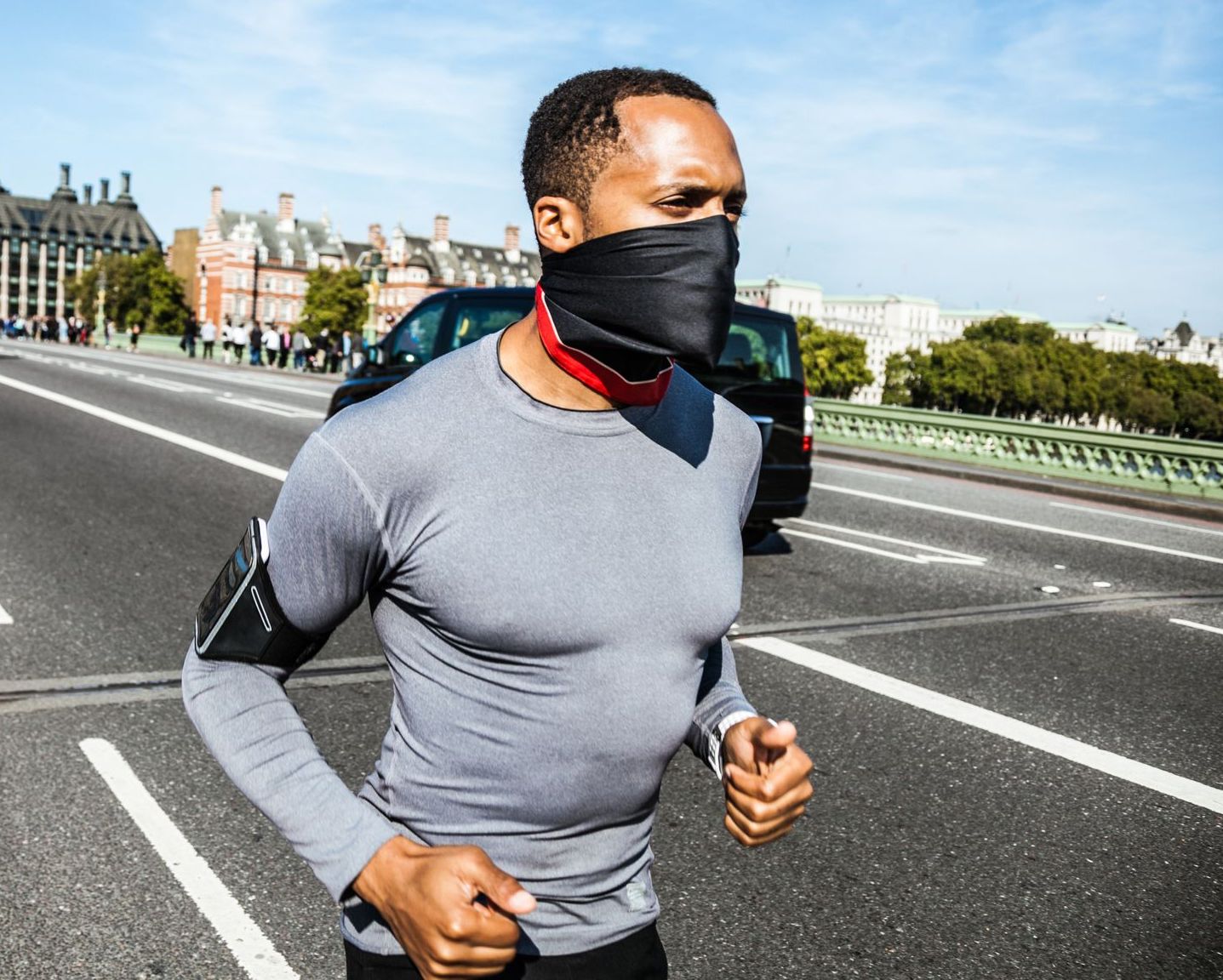 Decrease Your Breathing Rate Between Sets
This is the perfect time to refocus your breathing. Try to breathe nasally as much as possible, even during sets if you can. In case you experience difficulties with breathing in and out of your nose while performing exercises, try to breathe in through the nose and exhale through the mouth. Make your exhales as long and slow as possible and inhale deeply through the nose.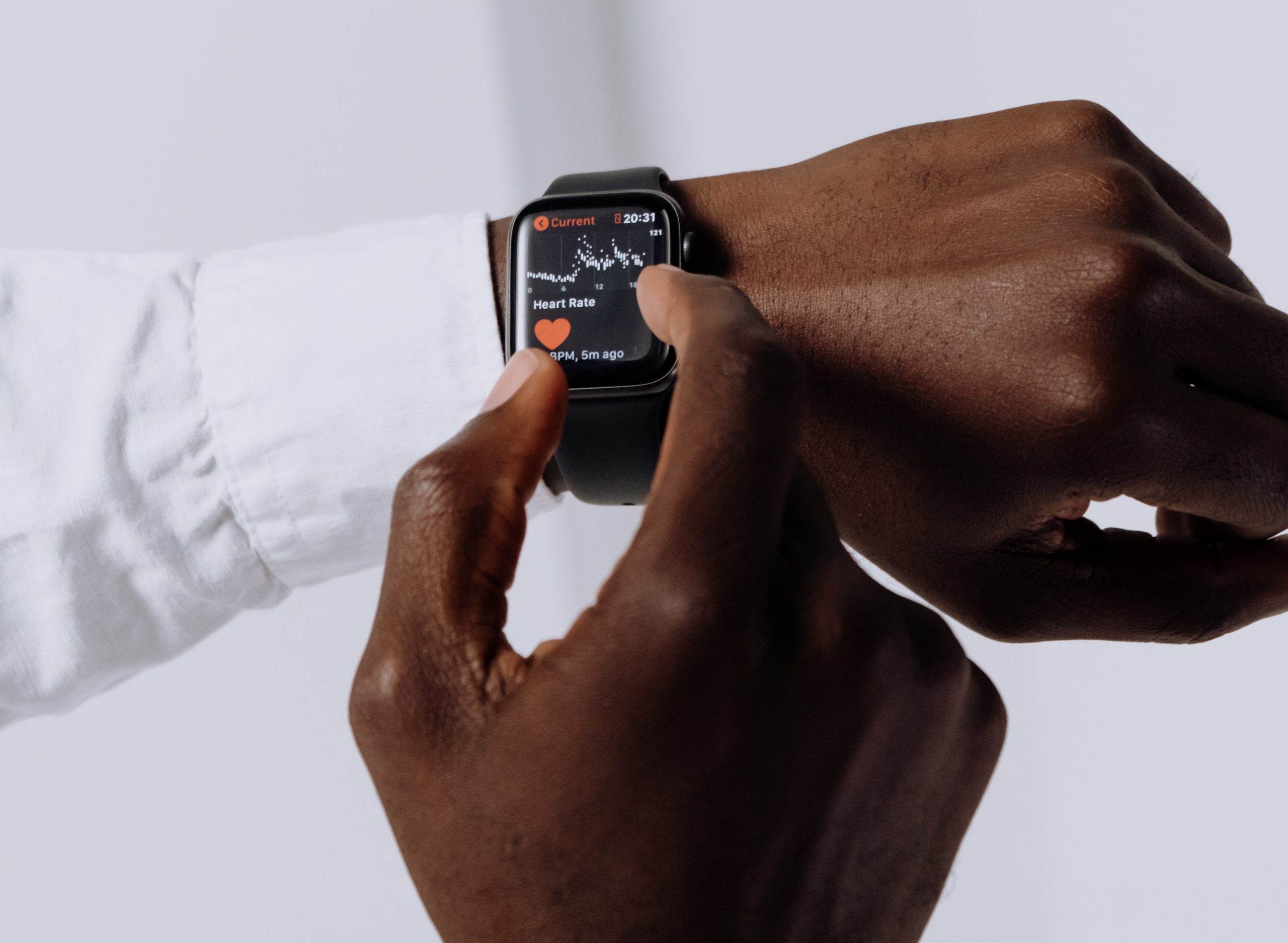 Also, reducing the breathing rate gradually slows down your heart rate. Our heart rate increases every time we breathe in, and vice versa. This natural phenomenon is explained by respiratory sinus arrhythmia. Exhaling long and slow decreases heart rate and eliminates carbon dioxide. Inhaling deep through the nose stimulates vagal tone and increases the oxygen concentration to slowly bring you back to homeostasis.
Relax, breathe, and maybe rest a little longer if you need to.
Try to focus on expanding your abdomen outward with each breath, this will help to cue a more diaphragmatic breathing pattern. Being able to relax and recover between sets is critical. If the mask causes anxiety over lack of air this could be even more problematic so relax, breathe, and rest a little longer if you need to.
Cluster Sets
Cluster sets are predominantly done for strength but can be used for hypertrophy as well. They implement a basic understanding of bioenergetics to maximize training volume. The idea behind cluster sets is that lifting weights is highly anaerobic, therefore lifting uses creatine phosphate for energy. This system is most active within the first few seconds of a high-intensity exercise since creatine stores rapidly deplete.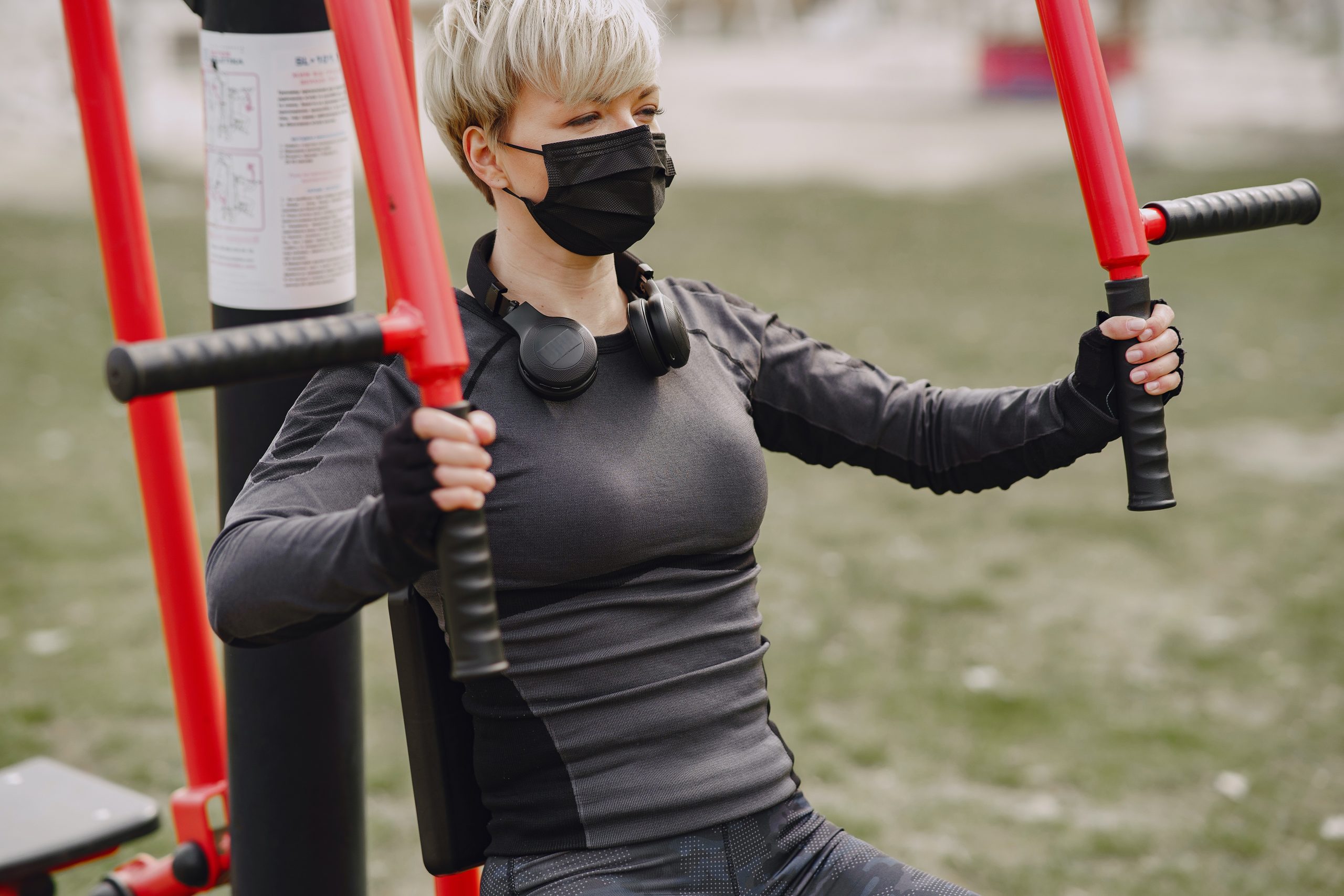 The idea behind cluster sets is to rest 15 to 30 seconds after every two to five repetitions and then repeat the reps. For example, a 3-3 cluster set would mean you do 3 reps, rest 30 seconds, and do 3 more reps. This essentially allows you to catch your breath and replenish the chemical substrates needed to sustain high-intensity efforts. This method would be great to implement now to allow you to do the same or more reps with heavier weight but less fatigue.
Go Outside
This isn't an option for everyone since outdoor equipment is limited. Here at our gym, we bought a tent and have a trailer full of equipment outdoors. This means members can use the space outside to workout without having a mask on. This option requires being more creative and safety measures for social distancing but it is worth exploring. Using bands and chains to accommodate resistance can be valuable when training with minimal equipment outdoors.
All in all, working out with a mask isn't that bad. It's a fair compromise especially in a time where many other businesses are simply not allowed to reopen. The health of your clients and yourself shouldn't be put on the back burner just because wearing a mask is uncomfortable. With these simple modifications, we hope that you will be able to continue your training progress and stay healthy as we adapt to the new normal.