Payment transforms how you sell training programs and manage your revenue stream at scale!
No more missed payments, collecting money via multiple channels, and manually tracking on spreadsheets! Leverage your training business with the all-in-one place Payments 💥
Process Payment like a pro with 3 easy steps:
1. Create a Package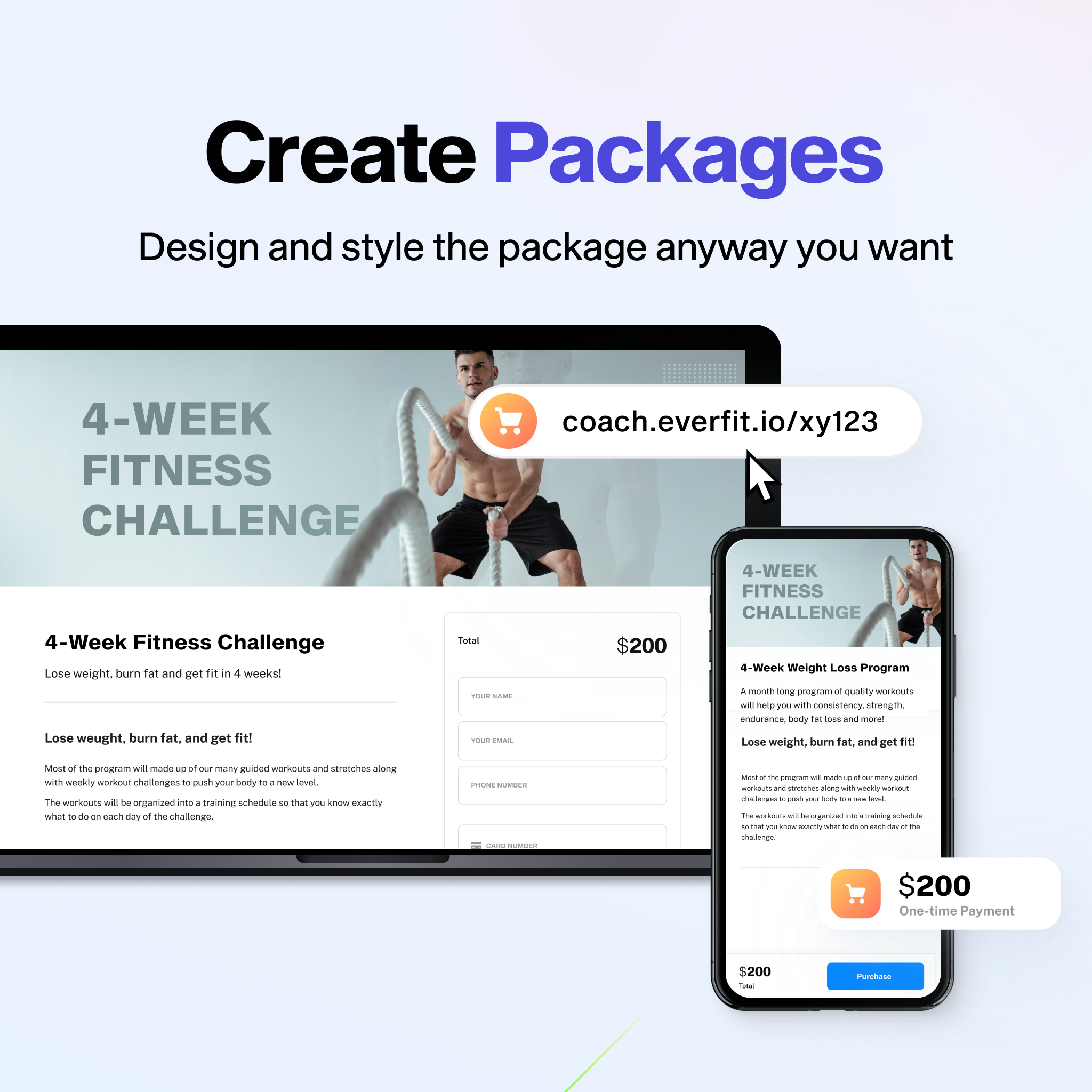 Create beautiful packages to help you sell coaching services online or in-person ⚡️
2. Set Pricing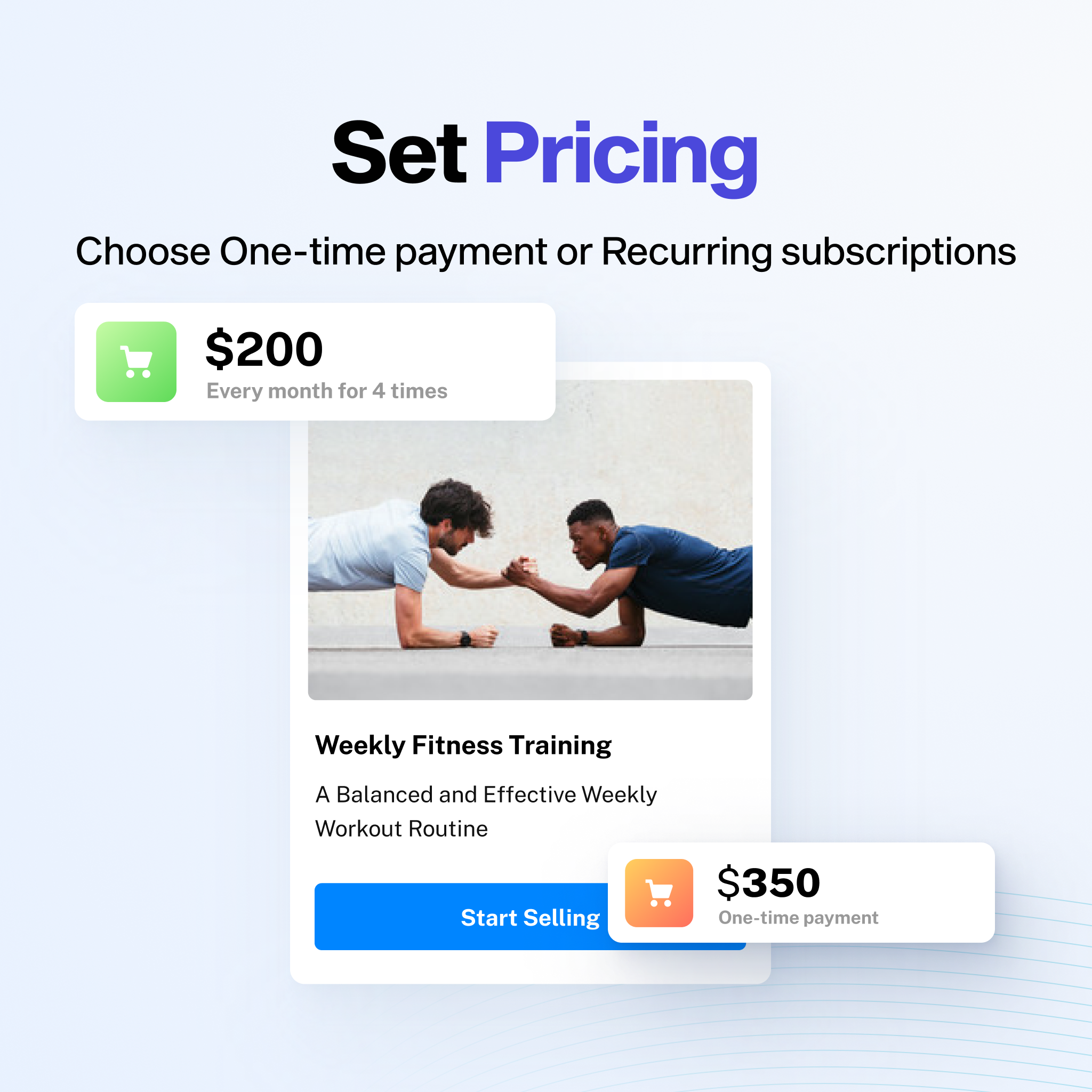 Set up packages as one-time payments or recurring subscriptions that work with any training business model 🔁
3. Collect Payments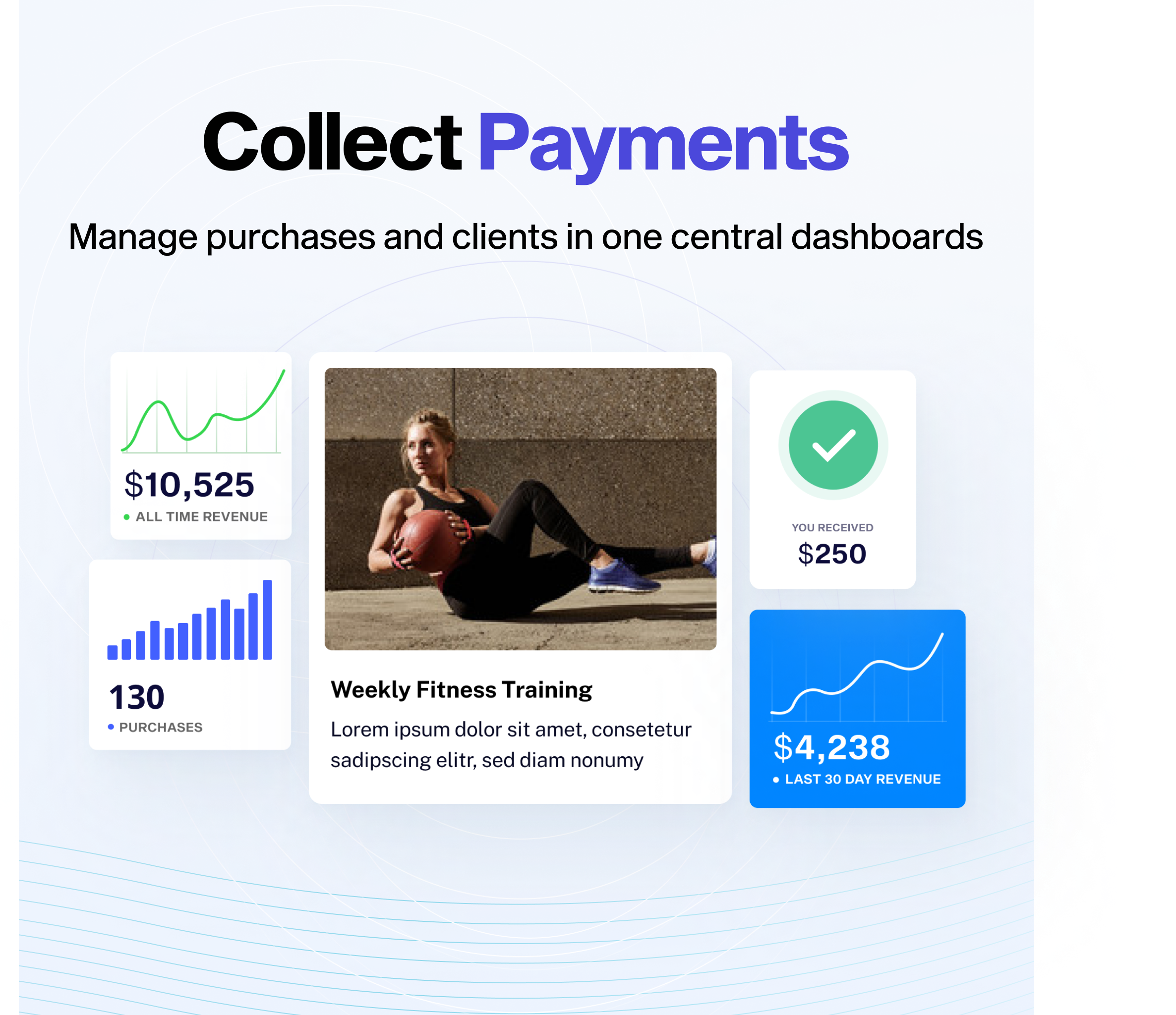 Sell your packages, receive automatic payouts, and gain insights you need to grow with a comprehensive dashboard 📊
What can you sell with Packages?
One time payments
This is the most simple type of package you can offer.
As with all packages, you can sell to either existing or potential clients. When a purchase is completed, the individual will be asked to link the purchase to an account. You will be notified by push notification and email for the transaction and also when the purchase is linked. From there, you can process the purchase depending on what is offered.
💡Some ideas for One-time packages:
1-on-1 Online Coaching (12 weeks)
Weight-loss Nutrition Coaching add-on (4 weeks)
Online Live Sessions – 5-pack
8-week Mobility Program [using Studio Programs]
3-week Stretch Basics [using Studio Programs]
Fitness Nutrition Knowledge pack [using Resource Collections]
Recurring subscriptions
With recurring subscriptions, you will be able to create a package that automatically charges your client at set intervals of time. Imagine collecting payments on time, all the time!
There are 2 types of recurring packages:
A package that has a set number of charges
A package that recurs forever
Depending on how many times the payments are set to repeat for, before making a purchase, your client will be asked to authorize automatic charges made to their credit card on file for the number of times specified. If the package recurs forever, they will be charged repeatedly at the specified intervals until a coach on your team cancels their purchase.
💡Some ideas for Recurring packages:
Monthly 1-on-1 Coaching
Monthly Coaching with Weekly Calls
12-week Training Program [charged weekly]
3-month Membership to DIY programs [using Studio Programs]
Monthly Access to Video Workout Library [using Resource Collections]
Everfit payments is powered by Stripe, the industry leader in payment processing.
The payment feature is currently only available for US-based bank accounts. Payment for other countries is coming soon!